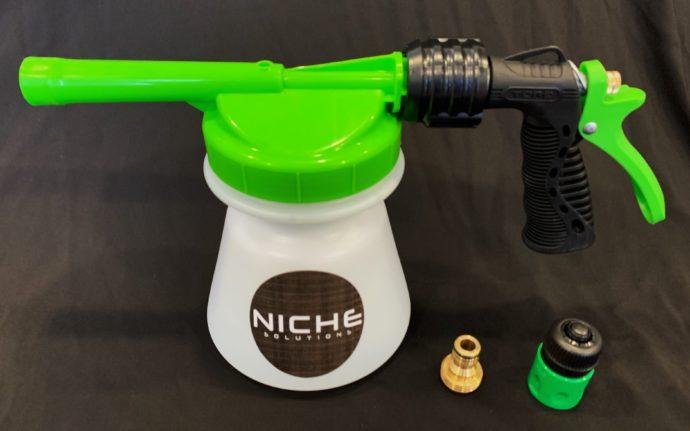 "The hydrofoamer gun is an essential item for keeping a clean brewhouse, the gun makes cleaning of tanks and floors an absolute breeze"
Dan, Lead Brewer, Pastore Brewing
"We often use Niche's Chlorfoam with the Hydrofoamer. It's easy to apply to our drains and the outside of vessels"
Marc, Head Brewer, Bruha Brewing
HydroFoamer WAS: £90.00 NOW: £70.00!
Offer valid until 30th September 
Use NicheSolutions' Chlorfoam for best results 25L £37.50+vat

Click here to watch our Hydrofoamer video on YouTube.
Or keep up to date with our day-to-day news and offers on Twitter
Latest blogs
BRITISH STANDARD ACCREDITATION ALL IN PLACE: YOU'RE IN SAFE HANDS!  
Nichesolutions is pleased to report that we have recently received our BS EN ISO 9001-2015 accreditation. This means that, as a customer of our brewery essentials, cleaning chemicals and pharmaceutical preparations, you're in safe hands!
COME AND SEE US AT BEER X THIS WEEK!
14th Mar 2022 Nichesolutions can now supply you with everything you need to produceHard Seltzers, including: * yeasts * nutrients * flavourings ... and much more Plea...
HAVE YOU THOUGHT ABOUT BREWING HARD SELTZERS?
2nd Mar 2022 Niche are pleased to announce our new partnership with Pathfinder, whose exciting range of ingredients we're now distributing to breweries up and down the coun...