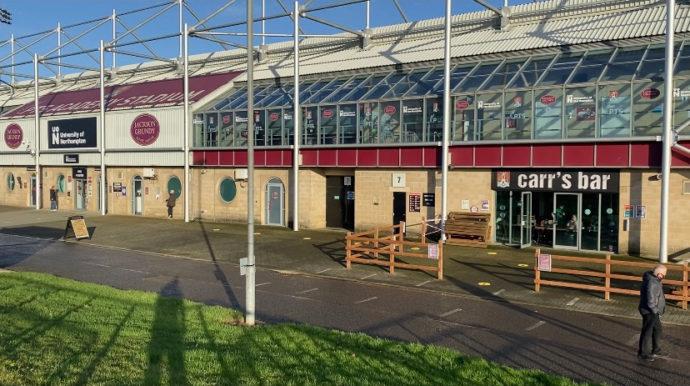 First came the success of Niche's high-capacity non-touch sanitiser gel units at Silverstone, at West Ham United's London Stadium and Kings Lynn Town FC, helping fans return to sporting events nationwide.
And now the units' installation at Northampton Town FC this weekend has been met with unanimous enthusiasm by fans, by the club and local media alike – making news in the Chronicle & Echo and on BBC Radio Northampton.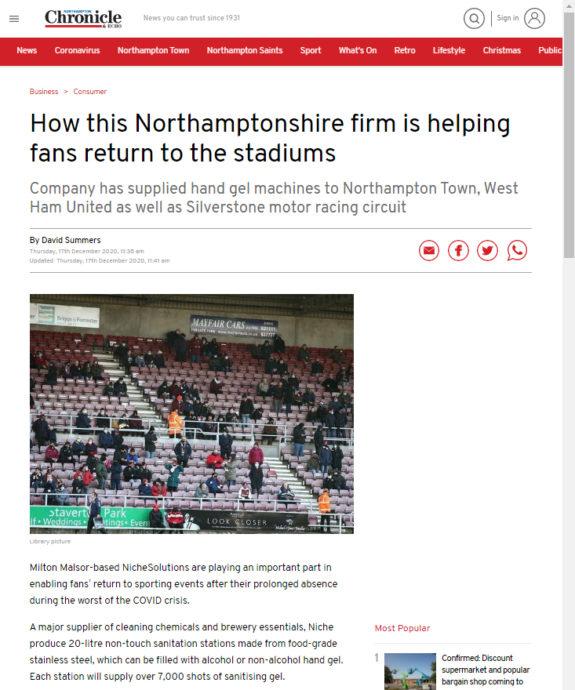 Speaking as the guest of John Griff on BBC Radio Northampton's ever-popular Saturday Breakfast Show, Niche MD Paul Calcott said:
"A thousand fans will be attending the big match this afternoon. They'll see the flags inviting them to 'sanitise your hands' at our stations which have been produced with full Cobblers branding.
"The 20-litre units provide over 7,000 shots of alcohol or non-alcohol-based sanitiser gel. This makes them perfect for keeping fans safe on their return to large-scale events and attractions.
"That's where this unit comes into its own, providing sanitiser where there's high footfall. As well as sporting stadia and amateur sports clubs, we're also talking to London Underground, to shopping malls, leisure facilities and other possible users."
Latest blogs
BRITISH STANDARD ACCREDITATION ALL IN PLACE: YOU'RE IN SAFE HANDS!  
Nichesolutions is pleased to report that we have recently received our BS EN ISO 9001-2015 accreditation. This means that, as a customer of our brewery essentials, cleaning chemicals and pharmaceutical preparations, you're in safe hands!
COME AND SEE US AT BEER X THIS WEEK!
14th Mar 2022 Nichesolutions can now supply you with everything you need to produceHard Seltzers, including: * yeasts * nutrients * flavourings ... and much more Plea...
HAVE YOU THOUGHT ABOUT BREWING HARD SELTZERS?
2nd Mar 2022 Niche are pleased to announce our new partnership with Pathfinder, whose exciting range of ingredients we're now distributing to breweries up and down the coun...